St-Georges Releases Overlimit Re-assays for Nickel, Copper, Platinum & Palladium at Manicouagan Critical Minerals Project
Montréal – TheNewswire - May 17, 2023 – St-Georges Eco-Mining Corp. (CSE:SX) (OTC:SXOOF) (FSE:85G1) is pleased to announce the remaining assay results for Hole MN22-03 from the Company's Fall 2022 Drill Program on the Manicouagan Critical and Strategic Minerals Project.
Hole MN22-003 encountered visible semi-massive to massive zones of sulfide mineralization from near surface (5.6 meters of overburden, then bedrock) to a 15-meter depth. Due to the significant multiple overlimit assay thresholds in portions of the hole, MN22-003 was re-assayed from 8 meters to 14 meters on 0.25-to-0.75-meter intervals depending on the intensity of the mineralization and where overlimit thresholds of the lab occurred.
Assays are still pending for rhodium, osmium, ruthenium, and iridium.
MN22-003 intersected 9.4 meters averaging 1.11% nickel, 0.56% copper, 0.035% cobalt, 0.97 g/t platinum, 1.54 g/t palladium, 0.023 g/t gold, and 3094 ppm arsenic. This section was originally sampled on 1-meter intervals with the exception of the first sample, which was collected on 1.4 meters.
The recent partial resampling results are as follows:
8 to 9.75 meters averaged 2.43% nickel, 1.18% copper, 0.07% cobalt, 2.99 g/t platinum, 3.84 g/t palladium, 0.046 g/t gold, and 4671 ppm arsenic over 1.75 meters. Individual quarter meter samples assay up to 4.1% copper, 3.36% nickel, 0.09% cobalt, 5.08 g/t platinum, and 6.66 g/t palladium, as illustrated in Table 1 below.  
11.75 to 12.5 meters averaged 2.99% nickel, 1.13% copper, 0.06% cobalt, 3.06 g/t platinum, 1.98 g/t palladium, 0.04 g/t gold, and 2525 ppm arsenic over 0.75 meters. Individual quarter meter samples assay up to 4.03% nickel, 1.975% copper, 0.081% cobalt, 4.83 g/t platinum, and 3.25 g/t palladium, as illustrated in Table 1 below 
13.5 to 14.5 meters averaged 0.76% nickel, 0.45% copper, 0.02% cobalt, 0.31 g/t platinum, 0.47 g/t palladium, 0.016 g/t gold, and 900 ppm arsenic over one meter.  
In a second zone, low-grade mineralization starts at 27 meters and continues to 35 meters. The relatively high magnesium content (average 14.5%) suggests an ultramafic host rock. The 8-meter-thick zone averages 0.16% nickel, 0.007% copper, 0.009% cobalt, and 0.17% chrome.
The above results are especially noteworthy not only for the significant grades in base and precious metals but also for the complementary values in arsenic. Arsenic is shown to be a coincident mineral with elevated nickel and PGE values. Historical work has pointed to gersdorffite as the main nickel-arsenide mineral responsible for the elevated arsenic and PGE values. This metric helps to triangulate the Company's focus both at surface and in drilling. Arsenic is dispersed over a larger area and may help identify holes that have been close to the high-grade mineralization but may have failed to intersect it.
This hole indicates that the mineralized horizon is at paleosurface and is covered by approximately five meters of glacial debris and alluvium. Further evaluation of the historical and recent drill results will be undertaken to follow up on the relationship of arsenic within and adjacent to the Bob, Tom, Carl, Sam, and Dernière Chance Zones.
Table 1. Assay results for MN22-03 include one-meter intervals.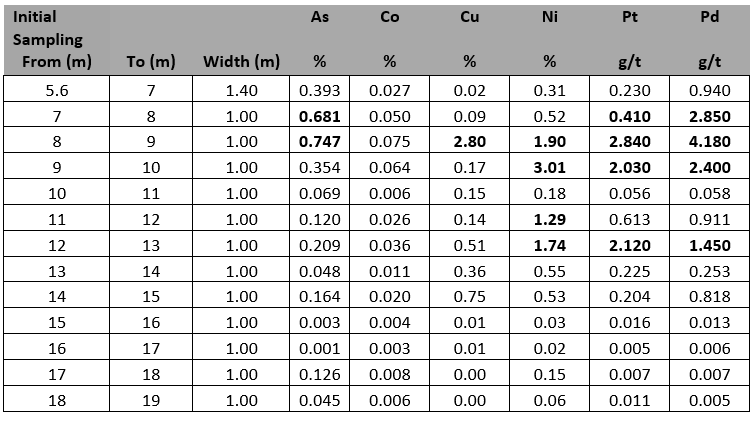 Table 2. Re-assay results for MN22-03 with shorter intervals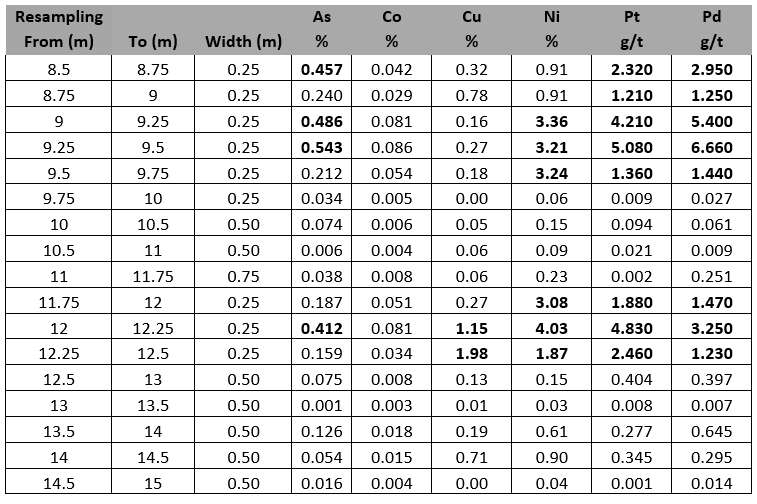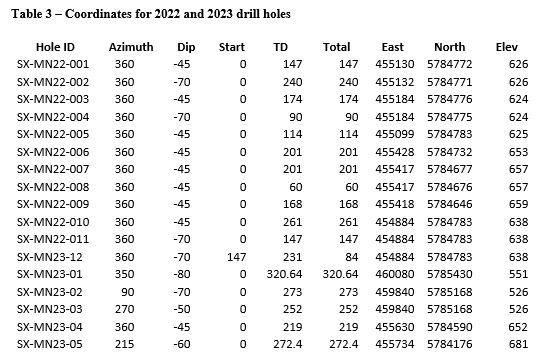 Click Image To View Full Size
Figure 1. 2022 and 2023 Drilling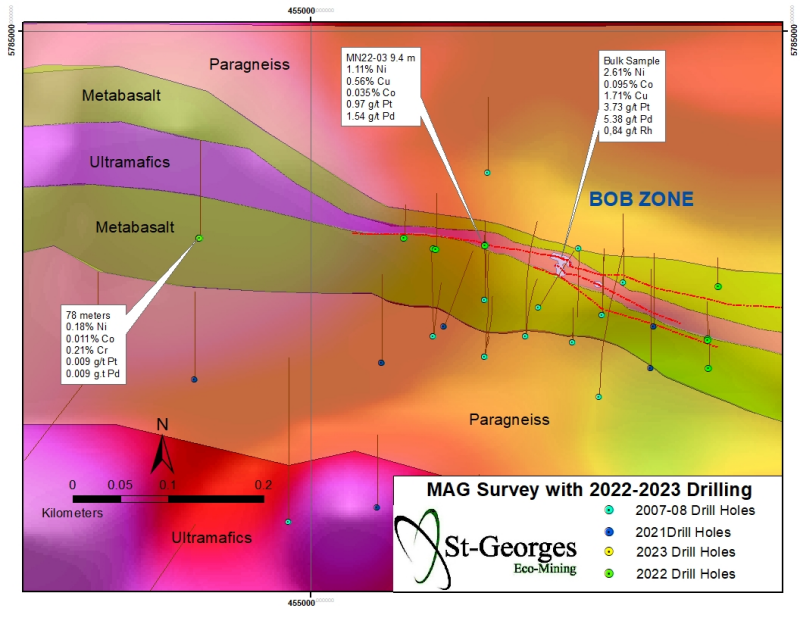 Click Image To View Full Size
Figure 2. 2022 & 2023 Drilling in the Bob Zone, Assays for MN22-03, MN22-10, and Bulk Sample.
Additional work on the property will take advantage of the new EM and magnetic surveys and new understandings of the structure and surface geochemical targeting of arsenic. These advancements in understanding will help to provide vectoring in on further high grades of mineralization first identified in the Bob Zone. The Tom, Dernière Chance, and Sam areas stretch over a 5-kilometer corridor from the Bob Zone. These areas of known mineralization at surface and in single and multiple intercepts are of similar grades and widths to Bob.
Qualified Persons and QA/QC
George Yardonov, P.Geo., a Qualified Person as defined by National Instrument 43-101 ("NI 43-101"), has reviewed and approved the scientific and technical contents of this news release.
ON BEHALF OF THE BOARD OF DIRECTORS
'Frank Dumas'
FRANCOIS (FRANK) DUMAS
Chief Operating Officer & Director of St-Georges Eco-Mining Corp.
About St-Georges Eco-Mining Corp.
St-Georges develops new technologies to solve some of the most common environmental problems in the mining sector, including maximizing metal recovery and full-circle battery recycling. The Company explores for nickel & PGEs on the Manicouagan and Julie Projects on Quebec's North Shore and has multiple exploration projects in Iceland, including the Thor Gold Project. Headquartered in Montreal, St-Georges' stock is listed on the CSE under the symbol SX and trades on the Frankfurt Stock Exchange under the symbol 85G1 and as SXOOF on the OTCQB Venture Market for early stage and developing U.S. and international companies. Companies are current in their reporting and undergo an annual verification and management certification process. Investors can find Real-Time quotes and market information for the company on www.otcmarkets.com
Visit the Company website at www.stgeorgesecomining.com
For all other inquiries: public@stgeorgesecomining.com
The Canadian Securities Exchange (CSE) has not reviewed and does not accept responsibility for the adequacy or
the accuracy of the contents of this release.