Belmont Resources Drilling Intercepts Second 100+ Meter Long Mineralized Zone Beneath A-J Gold Zone
Highlights:
AJ23-06 and AJ23-09 intercept a second mineralized zone of over 100 meters of extensive silicic and phyllic alteration accompanied by widespread sulphide mineralization . 

Mineralization now intersected over 100 metre durations in all four diamond drill holes directly beneath and nearby the Athelstan mine. 

Several targets remain to be tested in Q1 2024 planned drill program.


Click Image To View Full Size

  
November 16, 2023 – TheNewswire - Vancouver, B.C., Canada; Belmont Resources Ltd. ("Belmont" or the "Company") (TSXV:BEA) (FSE:L3L2) is pleased to announce that drill core logging has been completed on two additional drill holes AJ23-06 and AJ23-09 with visual analysis showing that a second mineralized zone of over 100 meters of extensive silicic and phyllic alteration accompanied by widespread sulphide mineralization was intersected.
Drill holes AJ23-06 and AJ23-09 targeted a strong coincident geophysical anomaly beneath surface gold mineralization at the 'A' Zone located 100 meters south east of drill holes AJ23-07 and AJ23-08 where both holes intercepted a 100 meter mineralized zone directly beneath the Athelstan gold mine. (Read NR Oct. 31, 2023)
Silica, silica-carbonate and phyllic alteration intersected over 100 metre durations in all four diamond drill holes in the South Zone directly beneath and nearby the Athelstan mine. These mineralized zones appear to be correlative between drill holes and could represent a 100 metre step out, along the strike of the Athelstan gold zone trend. The discovery of multi-metre quartz shear and stockwork style vein intersections with all lithologies hosting widespread pyrrhotite and pyrite and lesser chalco and arsenopyrite may potentially be one or more conduits and fracture spaces for deep seated mineralizing hydrothermal fluids and related to the auriferous deposits found in the historic gold mining above.
Shallow listwanite units (oxidized to unweathered) were consistently intersected along with very wide intense alteration zones with moderate sulphide mineralization at depths previously untested with historic exploration drilling or mining.
The recently completed 9 hole, 2,000m drill program tested several coincident geophysical-geological anomalies on the A-J property. Drill holes AJ23-01 to 05 were drilled in the North Zone with drill holes AJ23-06 to 09 drilled in the South Zone.
South Zone: Potential near-surface resource with high-grade feeder system
South Zone drilling tested for a potential feeder contact/structure for the near-surface gold mineralization within a 1.0 km mineralized gold trend which includes the Athelstan and Jackpot past producing gold mines which produced 7,600 ozs Au & 9,000 oz Ag (Minfile 082ESE047)
Along with the two former gold mines this trend includes numerous trenches, pits and adit as well as mine waste dumps. Sampling in this area has returned extensive high gold and silver results. In particular sampling of the mine dumps have returned grades as high as 1 oz/ton gold and over 5 oz/ton silver.1.
A 2002 Report by R.E. Miller B.Eng., P.Geo states "A potential resource of 2,000‐5,000 ounces of gold in the surface and near surface mineralized areas appears to exist within the A‐J Group based on previous trenching results and sampling of mine dumps. The identification of one to two areas of ore have been identified having dimensions of 2.0 metres thick, 15 metres in width and 90 metres in length with an average grade of 0.3 opt gold." 2
Gold mineralization in this zone is coincident with 2020 IP survey signatures of subsurface chargeability and resistivity highs, in addition to overlapping magnetic lows. All interpreted to potentially relate to the presence of sulphide mineralization, as well as silica, silica-carbonate and phyllic alteration zones.
Core logging of all four drill holes from the South Zone has now been completed with drill samples being sent to MSA Labs in Langley B.C. Logging of North Zone drill holes AJ23-01 to 05 continues and is expected to be completed in the next week.
George Sookochoff, CEO of Belmont Resources, said, "I am certainly pleased with the visuals of the drill core thus far and in particular the lengths of the mineralization situated both under and nearby the Athelstan gold mine. We were targeting and believe to have located one or more feeder systems to the extensive gold mineralization at surface. If assay results indeed support the visuals then we will have several more good targets to test in Q1 2024, in particular underneath the Jackpot mine."
 Listwanite and Serpentinite
Listwanite (carbonated serpentinite) is a term to describe the silica-carbonate alteration of serpentinite and is commonly associated with high-grade lode-gold mineralization.
All of the historic production from the property, and the vast majority of the previous exploration, all of which were in the South Zone, has been directed at massive sulfide and oxidized sulfide zones within listwanite.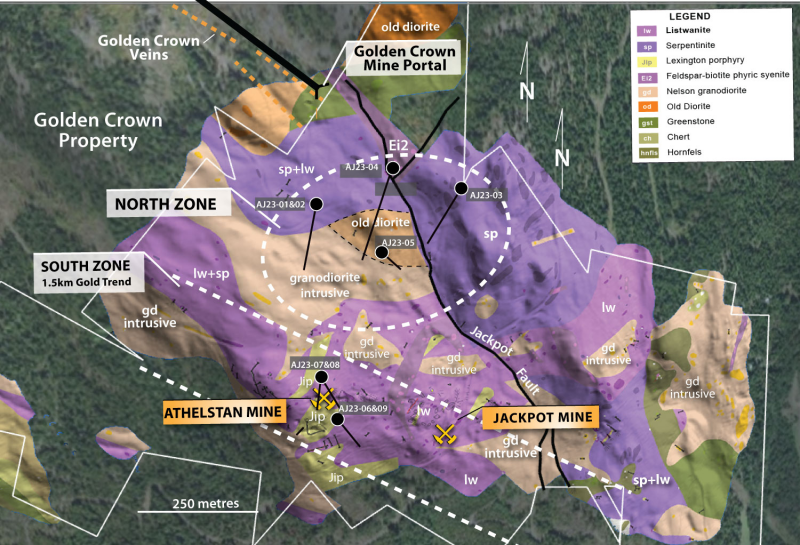 Click Image To View Full Size

 During the serpentinization process any gold present in the serpentine may be assimilated with secondary sulfides and/or magnetite and could be indicative by the magnetic anomalies within the property.
These opaque minerals (magnetite) are subsequently destroyed in talc-carbonate alteration zones (magnetic low features), which results in gold being released from the serpentinite wall rocks and transported in solution. The gold and silica-rich fluids are transported to higher crustal levels via faults where the change in conditions (lower temperature, pH and ƒO2) results in the precipitation of gold, quartz and sulfides.
The Mother Lode gold district in California and the Abitibi greenstone belt of the Superior Province of Canada are two of the most well-known examples of listwanite-associated lode-gold in North America. In general, the richest gold grades within these deposits are associated with, or in close proximity to carbonate-altered ultramafic rocks (Listwanite). Listwanite is also directly associated with several multi-million ounce gold deposits in British Columbia, Atlin, Bralorne and Barkerville.
1. Arrowhead Resources Surface Dump Sampling Report, Grant 1981.
2. 2002 Summary Report on the A-J Group, Greenwood Mining Division by R.E. Miller B.Eng. Sci., P.Geo February 2002


Click Image To View Full Size
About Belmont Resources
Belmont Resources has assembled a portfolio of highly prospective copper, gold, lithium, uranium and rare earths projects located in British Columbia, Saskatchewan, Washington and Nevada States. Its holdings include:
Athelstan-Jackpot (A-J): 2 former gold mines. 9 hole - 2,000m drilling targeting multi-coincident geophysical anomaly completed.  
CrackingstoneUranium-Rare Earths: Some of the highest grade Rare Earth Elements (REE's) are being discovered in Northern Saskatchewan due to the presence of Uranium, Thorium Pegmatites. Crackingstone project meets the criteria for potentially discovering a large REE's deposit with its high grade uranium along with thorium and pegmatite. A review of 3,000m of 2008 drill data shows a 1.3km pegmatite dyke drilled but only assayed for uranium at that time. 2023 plans are to re-assay pegmatite sections for REE's ;
 

Come By Chance (CBC): 2021 geophysics delineated potential large copper-gold porphyry
2022 drilling provided further vectors towards potential core of porphyry;
 

The Lone StarCopper-Gold: optioned to Australian Marquee Resources ASX:MQR. MQR has spent in excess of $2.5M in drilling, completed new resource in Dec. 2022, and is currently preparing a Preliminary Economic Assessment in order to earn 80% interest.
 

The Kibby Basin Lithium project located 60 kilometers north of the lithium rich Clayton Valley Basin: Optioned 80% of the central Kibby Playa claim block to Australian Marquee Resources - MQR. MQR has spent in excess of $2.5M in drilling in 2022 for potential deep seated lithium brine. 2022 Drilling confirmed high levels of lithium-bearing sediments along with dissolved lithium in the groundwater.  
 NI 43-101 Disclosure:
The technical information in this news release has been prepared in accordance with Canadian regulatory requirements as set out in National Instrument 43-101 and has been reviewed and approved by Laurence Sookochoff, P.Eng.
ON BEHALF OF THE BOARD OF DIRECTORS
"George Sookochoff"
George Sookochoff, CEO/President
Neither the TSX Venture Exchange nor its Regulation Services Provider (as the term is defined in the policies of the TSX Venture Exchange) accepts responsibility for the adequacy or accuracy of this news release.  
This Press Release may contain forward-looking statements that may involve a number of risks and uncertainties, based on assumptions and judgments of management regarding future events or results that may prove to be inaccurate as a result of exploration and other risk factors beyond its control.   Actual events or results could differ materially from the Companies forward-looking statements and expectations.  These risks and uncertainties include, among other things, that we may not be able to obtain regulatory approval; that we may not be able to raise funds required, that conditions to closing may not be fulfilled and we may not be able to organize and carry out an exploration program in 2023, and other risks associated with being a mineral exploration and development company. These forward-looking statements are made as of the date of this news release and, except as required by applicable laws, the Company assumes no obligation to update these forward-looking statements, or to update the reasons why actual results differed from those projected in the forward-looking statements.