Green Battery Minerals Strengthen ESG Credentials Through Successful Air Separation Test of its Graphite
Solventless Process, Yields Graphite Grades of up to 93%, Utilizing Volt Carbon Technologies' Proprietary Process
VANCOUVER, BRITISH COLUMBIA – TheNewswire - Vancouver, British Columbia, | May 16th, 2023 – Green Battery Minerals Inc. (the "Company") (TSXV:GEM) (FSE:BK2P) (WKN:A2QENP) (OTC:GBMIF) is pleased to announce it has completed a new purification test with Volt Carbon Technologies ("VCT") (TSXV: VCT).
One of our goals is to continue to make graphene from our large to jumbo flake graphite.  This process brings us one step closer, and significantly greener.
Current purification of battery-grade anode material requires large quantities of reagents such as sodium hydroxide and hydrofluoric acid, as well as significant amounts of water, which consequently will be contaminated and needs to be treated before reentering the environment. The new process utilizes air as its separation medium, thereby omitting the use of solvents and does not produce contaminated liquid waste.
The preliminary results of the graphite ore processing test using VCT's dry separation Technologies  yielded graphite grades  to 93%, based on Thermogravimetric Analysis provided by VCT's laboratory in Guelph, Ontario.
High-Grade Large and Jumbo Flake Graphite Produced
The test was run utilizing 5 kg of crushed feedstock sample from the Company's Berkwood property. The final results yielded 146 grams of graphite flake per kilogram of crushed feedstock, reflecting a of 14.6% yield of graphite flakes per kg of feedstock. 
Importantly, the resulting flake size distribution (see Figure 1 below) showed that the majority of the Berkwood graphite produces large and jumbo sized flakes, ideal for the production of anode material for lithium-ion batteries ("LiBs").  Large and jumbo flakes command among the highest graphite prices on the market of up to $2,500 per ton.
The Graphite provided by VCT was subsequently sent to a third-party lab - Base Metallurgist Laboratories Ltd in Kamloops, for independent testing. The results, tabulated below in Figure 3, verified that the VCT-processed sample tested yielded a graphite content of 91.55%, with total carbon showing at 97%. These results validate the effectiveness of VCT's current process, which is currently being scaled up.
Management Commentary
Thomas Yingling, President and CEO of Green Battery Minerals, commented, "We are very excited with the results of the VCT air separation test for multiple reasons. Firstly, the process eliminates a significant amount of waste traditionally associated with the purification of graphite due to its solventless and reagentless nature. This is a major step forward and further strengthens our green credentials. In speaking to the automobile industry, it is obvious that ESG considerations play a major role in purchase decisions. While graphite is in short supply, this advance positions us well to secure market share should we reach full production. Secondly, the new process does not hurt flake size distribution. As our property benefits from significant concentrations of large and jumbo-sized flakes, this outcome ensures we can command among the highest prices for our graphite. This potentially disruptive technology could greatly benefit Green Battery Minerals as we plan to move towards commercial development."
Next Steps
The Company and VCT intend to utilize a 5,000 kg Graphitic sample to produce commercial scale samples for testing by the automotive industry and other potential customers. This next step will also be used to more accurately determine costing, which will be significantly lower than currently utilized processes.
Mr. Yingling added, "In addition to the process's high-quality output and green credential, we believe that by utilizing VCT's dry separation technology, we will have a material economic advantage over traditionally processed graphite due to significantly lower CapEx and operating costs. This should further strengthen our competitive position, and we believe this will help position us as a major supply partner to the EV and other industries."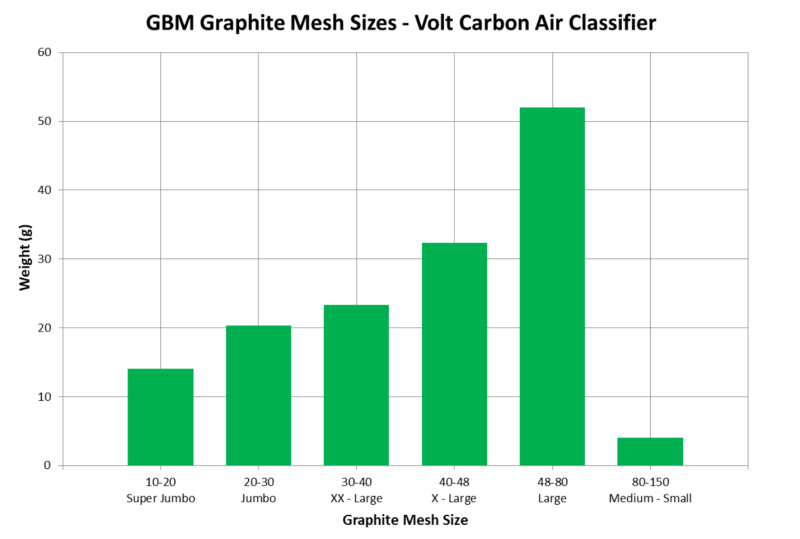 Click Image To View Full Size
Figure 1: Flake size distribution from Air Classification: recovery of 146 g/kg of feedstock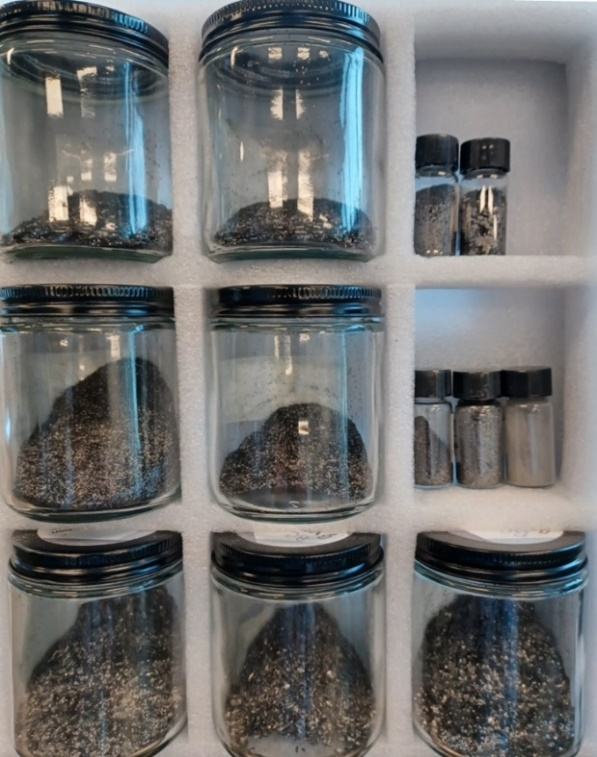 Figure 2: High-Quality Large and Jumbo Flake Graphite from Air-Classified VCT Process
Products

Element

Ctot

Cg

Apr 4 LAB SAMPLE cut 1 x10 dil - GEM

97.0

91.55

 
 

Method

LECO

LECO

 
 

Units

%

%
Figure 3: Third-Party Verification of VCT's Processed Graphite
Qualified Person
Christian Derosier, P.Geo., PhD., is the qualified person (QP) as defined in National Instrument 43-101.  Dr. Derosier has reviewed and approved the technical content of this news release.
About the Company: Green Battery Minerals is managed by a team with over 150 years of collective experience with a proven track record of finding, building, running and or selling  numerous mines.  The Green Battery Minerals management team's most recent success is discovering the Berkwood graphite resource in Northern Québec. Green Battery Minerals owns 100% of this asset, and the Company's shareholders should benefit from this asset as the demand for graphite for electric vehicles increases significantly.  The Company also has its Jupiter Lithium project located near some of the larget lithium mines in the James Bay area of Northern Quebec.  
About Volt Carbon Technologies: Volt Carbon is a publicly traded carbon science company, with specific interests in energy storage and green energy creation, with holdings in mining claims in the provinces of Ontario, Quebec and British Columbia in Canada. For the latest information on Volt Carbon's properties and news please refer to the website www.voltcarbontech.com.
Green Battery Minerals lnc.
'Thomas Yingling'
President, CEO & Director
FOR MORE INFORMATION, PLEASE CONTACT:
Investor Relations:
or 1-604-343-7740
info@greenbatteryminerals.com www.greenbatteryminerals.com
Disclaimer for Forward-Looking Information:
Certain statements in this document which are not purely historical are forward-looking statements, including any statements regarding beliefs, plans, expectations or intentions regarding the future. Forward looking statements in this news release include that the Company will carry out the drill program described in this news release, conduct the Offering and expend funds on Berkwood Graphite Project exploration. It is important to note that the Company's actual business outcomes and exploration results could differ materially from those in such forward-looking statements. Risks and uncertainties include that further permits may not be granted timely or at all; the mineral claims may prove to be unworthy of further expenditure; there may not be an economic mineral resource; methods we thought would be effective may not prove to be in practice or on our claims; economic, competitive, governmental, environmental and technological factors may affect the Company's operations, markets, products and prices; our specific plans and timing drilling, field work and other plans may change; we may not have access to or be able to develop any minerals because of cost factors, type of terrain, or availability of equipment and technology; and we may also not raise sufficient funds to carry out our plans. Additional risk factors are discussed in the section entitled "Risk Factors" in the Company's Management Discussion and Analysis for its recently completed fiscal period, which is available under Company's SEDAR profile at www.sedar.com.  No assurance can be given that any of the events anticipated by the forward-looking statements will occur or, if they do occur, what benefits the Company will obtain from them.  These forward-looking statements reflect management's current views and are based on certain expectations, estimates and assumptions, which may prove to be incorrect. Except as required by law, we will not update these forward-looking statement risk factors.
Neither TSX Venture Exchange nor its Regulation Services Provider (as that term is defined in the policies of the TSX Venture Exchange) accepts responsibility for the adequacy or accuracy of this release.