MetalQuest Mining Lac Otelnuk Iron Ore Project Overview
May 16th, 2023 – TheNewswire - Rockport, Ontario – (TSXV:MQM); (OTC:MQMIF); (FSE:E7Q.F) ("MQM" or "Company") In the last quarter of 2022, the Company acquired 100% one of the largest undeveloped Iron ore projects in North America, in Quebec's Labrador Trough. In February 2023, the Quebec government transferred a 100% of the claims from the vendor to MetalQuest Mining Inc. Thus,  this acquisition provides our shareholders with a world-class Iron ore deposit.
The purpose of this press release is to provide complete technical data on the activities conducted on the project to date and to provide a follow up plan for the development of the project.
Project Activities
Harry Barr, CEO and Chairman of MetalQuest Mining, commented: "The Lac Otelnuk Iron Ore Project is one of the most advanced projects I have been able to acquire in my many years in the mining industry. To date, the development of this project has revealed an established multi-billion-ton resource upon which a feasibility study was completed in 2015. The project is paid for and there are no mandatory property payments, exploration expenditures, project expenditures, and/or pre-royalty payments. The project has approximately C$30 million in assessment credits and is in good standing for years to come. The only obligation of the company to the previous owner is a 2.5% royalty on production that can be bought down to 0.7%."
"Our go-forward plan is to complete a Memorandum of Understanding (MOU) with the local First Nations, on whose traditional territories where the Lac Otelnuk Iron Ore Project is located. Having completed 43 deals with major mining companies, our plan utilizing our newly established Iron ore database is to find an Option/Joint Venture partner to help us further develop this world-class iron ore project."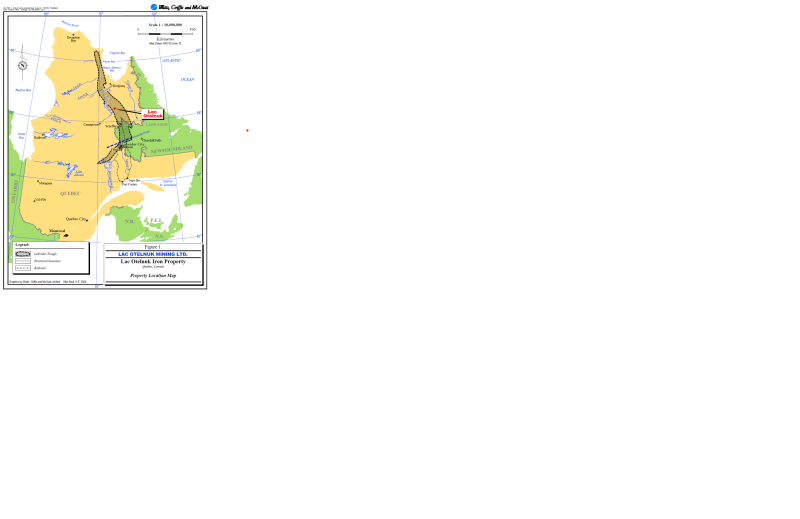 Click Image To View Full Size
Figure 1. Lac Otelnuk Iron Ore Property Location Map.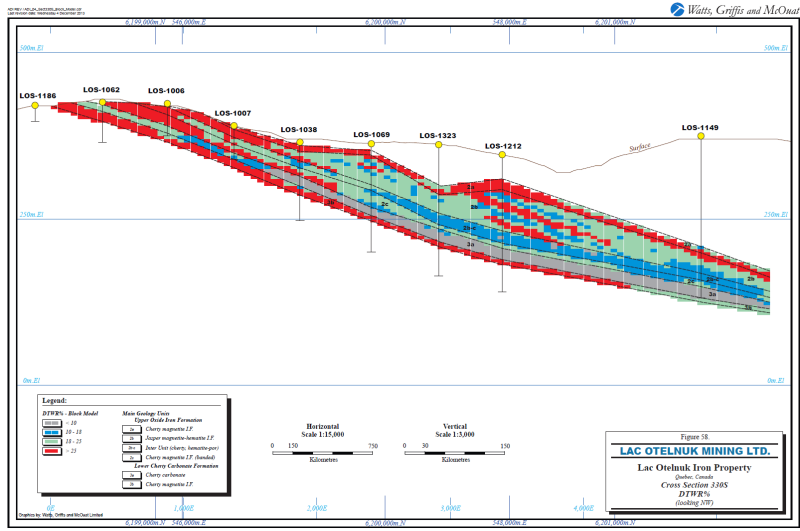 Click Image To View Full Size
Figure 2. Outlay of MetalQuest Mining's Otelnuk Iron Ore Deposit.
Highlights of the Historic Mineral Resource Estimate and 2015 Feasibility Study
In 2015, a previous operator of the project (Lac Otelnuk Mining), ordered an updated Feasibility Study, dated March 25, 2015.  No material changes to the geological and engineering components of this study have changed since this time; however, updated economics assumptions may alter the study's findings. Consequently, we caution that a qualified person has not done sufficient work to classify the historic resources and reserves as current.  MetalQuest Mining is therefore not treating these historic mineral reserves and resources as current.
Test work performed on the project composite samples has demonstrated concentrate grades with <4% SiO2 and >68.5% iron with an implemented metallurgical recovery of 27.6% weight recovery. The following tables show mineral resource, reserves, and estimates.
Table 1. 2013 Categorized Mineral Resource Estimate for Lac Otelnuk Iron Ore Project (Cut-off of 18% DTWR). Data Source: Lac Otelnuk Mining Ltd./Lac Otelnuk Project Feasibility Study - NI 43-101 Technical Report 2015.


Click Image To View Full Size
Notes:
1. Interpretation of the mineralized zones were created as 3D wireframes/solids based on logged
geology and a nominal 10 % DTWR when required.
2. Mineral Resources were estimated using a block model with a block size of 50m x 50m x 5m.
3. No grade capping was done. Tonnages and grades reported above are undiluted.
4. Assumed Fe price was US$ 110/dmt.
5. Mineral Resources which are not Mineral Reserves do not have demonstrated economic viability.
There is no certainty that all or any part of the Mineral Resource will be converted into Mineral
Reserves. The estimate of Mineral Resources may be materially affected by environmental,
permitting, legal, title, socio-political, marketing, or other relevant issues;
6. The quantity and grade of reported Inferred Mineral Resources in this estimation are uncertain in
nature and there has been insufficient exploration to define these Inferred Resources as an
Indicated or Measured Mineral Resource and it is uncertain if further exploration will result in
upgrading them to an Indicated or Measured Mineral Resource category;
7. The Mineral Resources were estimated using the Canadian Institute of Mining, Metallurgy and
Petroleum (CIM) Standards for Mineral Resources and Reserves, Definitions and Guidelines
prepared by the CIM Standing Committee on Reserve Defmitions and adopted by CIM Council
May 10th, 2014.
Table 2. Mineral Reserves. Data Source: Lac Otelnuk Mining Ltd./Lac Otelnuk Project Feasibility Study - NI 43-101 Technical Report 2015.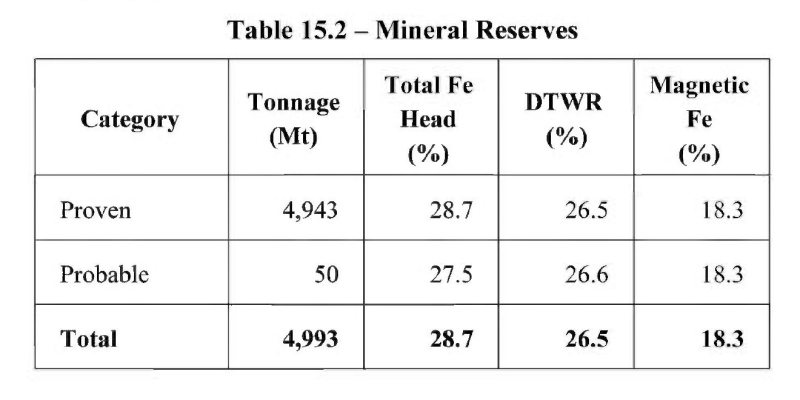 Click Image To View Full Size
Estimated Project Life of Mine (LOM)
Under the Feasibility Study, the plan is to build a conventional open pit mine with designed bench height  of 15m.  The mine will operate 365 days per year, round the clock which will produce 30Mt per year of concentrate in Phase 1 and 50Mt per year of concentrate in Phase 2.  Total mined material will range from 34.8Mt in Year one to a peak of 260Mt/y for years 11 to 15 for 30 Years of LOM (Table 3).
The processing plant is designed to treat 188.7Mt/y of ore for a production of concentrate; with a Fe content of about 68% with less than 4% silica.  This high quality concentrate is in great demand to feed direct reduction ARC furnaces globally in an effort to reduce the carbon footprint of steel production.  The concentrate will be shipped via a pipeline located in the Port Facilities in Sept-Iles, PQ for shipping globally.
Total project CAPEX from the 2015 study was US$14.186B, with US$9.384B required for Phase One and US$4.802 required for Phase Two.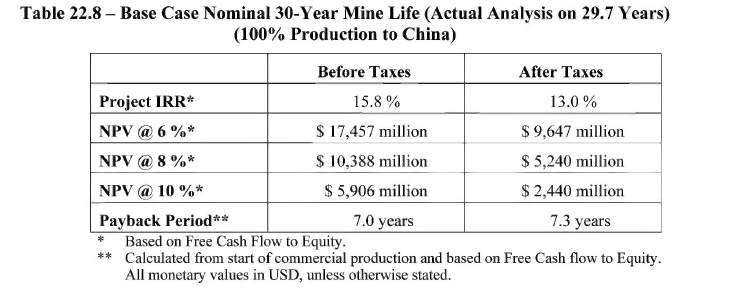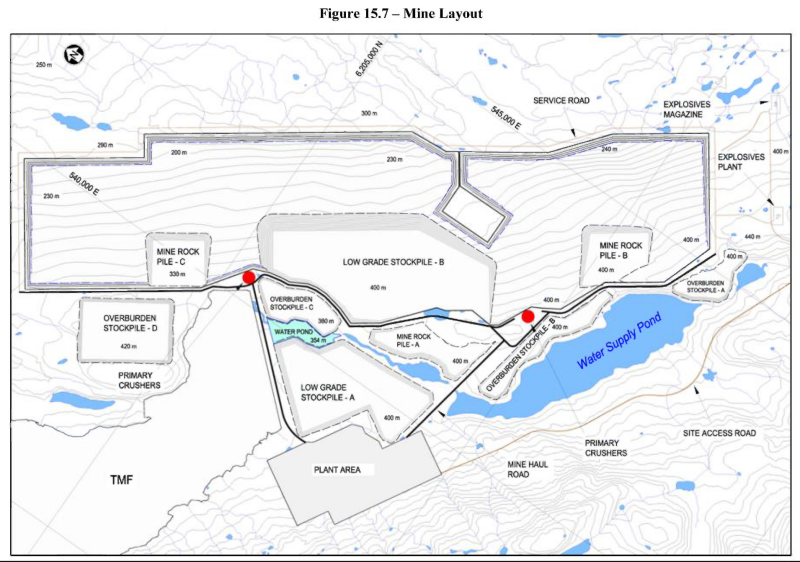 Click Image To View Full Size
Figure 3. Lac Otelnuk Iron Ore Project Plant Layout.
The Company is pursuing the following plans to enhance the project:
Complete project due diligence and update technical databases. 

Contact and establish connections with First Nation groups in the region with objective to complete an MOU and contact Quebec government officials.  

Implement new and efficient exploration technologies for discoveries and develop new targets to convert Historic Resources into Current Resources and Reserves. 

Ensure our dedication to limiting, protecting the environment, and efficiently mitigating with restoration when required. 

Continue to build our in-house Iron ore database consisting of iron ore producers, royalty companies, end-users, automobile companies, private equities, and mine finance companies.Introduce the project to potential Option/JV Partners with the objective of signing a project finance agreement.  

The main concepts of the agreement will be as follows: 

Update the Resource Estimate, if necessary, all drilling is complete at this point. 

Update the Feasibility Study with full engineering and construction cost updates. 

Complete Project permitting. 

Arrange production financing. 

Seek to supply European and North American markets with feedstock to reduce shipping costs. 

Study alternative product delivery methods such as rail or Northern ports to materially reduce CAPEX. 

Study methods of OPEX reduction via cost saving initiatives or development subsidies by the Quebec government for Northern Development, carbon reduction or other programs. 

Seek detailed tax advice to reduce or eliminate taxes on the project which will materially improve the economics. 
Mr. Adou Katche, P. Geo, is a geologist and Qualified Person (as defined under NI 43-101), has read and approved the technical information contained in this press release.  Mr. Katche is a senior geologist associate of Watts, Griffis, and McOuat Ltd.; practising member of l' Ordre des Geologues du Quebec  (License number : 01545) as well as  Professional Geoscientists Ontario (PGO) and (License number : 2677).
The scientific and technical disclosure of the Otelnuk Iron Ore Project for this "News Release" is based on the investigation of this Project since 2007 including the efforts carried by successive Qualified Geologists and Engineers, including:
TECHNICAL REPORT AND UPDATED MINERAL RESOURCE ESTIMATE FOR THE LAC OTELNUK IRON PROPERTY, LABRADOR TROUGH, NORTHEASTERN QUÉBEC FOR LAC OTELNUK MINING LTD. prepared by Richard W. Risto, M.Sc., P.Geo., Michael Kociumbas, P.Geo., G. Ross MacFarlane, P.Eng., Normand D'Anjou, Eng., M.Sc., Effective Date: October 31, 2013 Toronto, Canada. In the account of WGM, there are no Mineral Reserves defined for the Property in 2013.

 

Lac Otelnuk Project Feasibility Study - NI 43-101 Technical Report FINAL REPORT  for Lac Otelnuk Mining Ltd.  Prepared by R. W. Risto, M.Sc., P. Geo.; M. W. Kociumbas, P. Geo.; R. Martinez, Ing.; J. Lord, Ing.; E. Giroux, Ing. M.Sc.;M. Côté, Ing.; S. Buccitelli, Ing.; J. Cassoff, Ing.; André Bollard, Ing. Effective Date : March 25`h, 2015 and Issue Date : April 23îd, 2015

.  
METALQUEST MINING (MQM) owns a 100% of and is further looking to develop one of the largest Iron ore projects in North America. The Lac Otelnuk Iron Ore Project is located in Quebec's Labrador Trough and is approximately 165 km by air northwest of the village of Schefferville, and 1200 km northeast of Montreal by air. Given the size and scope of the Lac Otelnuk Project, management of MQM are working with a Toronto-based engineering Company familiar with the project to create a go-forward development plan. The Quebec government has recently transferred the claims into MQM's name and management is accumulating a vast amount of technical data as approximately $150 million has been expended on the project to date. Going forward, one of our primary objectives will be to work Wasayao Strategy Group, a Quebec-based First Nations consulting firm, that will work with MQM to secure a Memorandum of Understanding (MOU) with local First Nations and other stakeholders. Management is continuing to develop its in-house Iron ore database to enable the Company to secure an Option/Joint Venture partner from the Iron ore industry. The Company is diversified with a ~29.2% stake in Murray Brook PEA Stage Zinc-Polymetallic Deposit, situated in the famous Bathurst Mining District, New Brunswick, Eastern Canada. Votorantim Metals Canada Inc. owns the other 70.8%. Management plans to sell its interest and use the proceeds as a non-dilutive financing to add to the Company's working capital.
Investors are invited to visit the MetalQuest Mining website at www.metalquestmining.com    where they can review the company and its corporate activities. Any questions or comments can be directed to Harry Barr at Hbarr@mqmining.com or Farid Mammadov at faridm@mqmining.com or call 613 659 2773.
If you have not done so already, we encourage you to sign up on our website (www.mqmining.com) to receive our updated news.
On behalf of the Board of Directors
"Harry Barr"
Harry G. Barr
Chairman and CEO
Neither the TSX Venture Exchange nor its Regulation Services Provider (as that term is defined in the policies of the TSX Venture Exchange) accepts responsibility for the adequacy or accuracy of this release. Cautionary Note Regarding Forward Looking Statements: This release contains forward-looking statements that involve risks and uncertainties. These statements may differ materially from actual future events or results and are based on current expectations or beliefs. For this purpose, statements of historical fact may be deemed to be forward-looking statements. In addition, forward-looking statements include statements in which the Company uses words such as "continue", "efforts", "expect", "believe", "anticipate", "confident", "intend", "strategy", "plan", "will", "estimate", "project", "goal", "target", "prospects", "optimistic" or similar expressions. These statements by their nature involve risks and uncertainties, and actual results may differ materially depending on a variety of important factors, including, among others, the Company's ability and continuation of efforts to timely and completely make available adequate current public information, additional or different regulatory and legal requirements and restrictions that may be imposed, and other factors as may be discussed in the documents filed by the Company on SEDAR (www.sedar.com), including the most recent reports that identify important risk factors that could cause actual results to differ from those contained in the forward-looking statements. The Company does not undertake any obligation to review or confirm analysts' expectations or estimates or to release publicly any revisions to any forward-looking statements to reflect events or circumstances after the date hereof or to reflect the occurrence of unanticipated events. Investors should not place undue reliance on forward-looking statements.