Forbidden Spirits Announces Private Placement of Units and Provides Update on Niagara Acquisition
NOT INTENDED FOR DISTRIBUTION TO UNITED STATES NEWS WIRE SERVICES OR FOR DISSEMINATION IN THE UNITED STATES
Kelowna, BC – TheNewswire - July 4, 2022 — Forbidden Spirits Distilling Corp. (TSXV:VDKA) - (the "Company" or "Forbidden Spirits"), a fast-growing craft distillery headquartered in Kelowna, British Columbia, is pleased to announce that it has launched a non-brokered private placement of units (the "Units") at a price of $0.075 per Unit for aggregate gross proceeds of up to $750,000 (the "Private Placement").  Each Unit to be comprised of one common share in the capital of the Company (a "Common Share") and one Common Share purchase warrant (a "Warrant").  Each Warrant will entitle the holder to acquire one additional Common Share (a "Warrant Share") at a price of $0.15 for a period of two years from the Closing Date.  
The Company intends to use the net proceeds from the Private Placement to fund working capital and general corporate requirements.
The Private Placement remains subject to the receipt of all required regulatory approvals, including the approval of the TSX Venture Exchange. The Common Shares and the Warrants comprising the Units and any Warrant Shares issuable upon exercise of the Warrants, will be subject to a statutory hold period lasting four months and one day following the Closing Date.
Proposed Acquisition
The Company also announces that, given current market conditions, it has determined to postpone indefinitely its previously announced acquisition of Niagara Falls Craft Distillers Ltd. and related private placement of convertible debenture units (see the Company's press releases of March 9, 2022 and April 5, 2022).
About Forbidden Spirits Distilling Corp:
Forbidden Spirits is a fast-growing craft distillery and trades under the ticker symbol VDKA on the TSX Venture Exchange.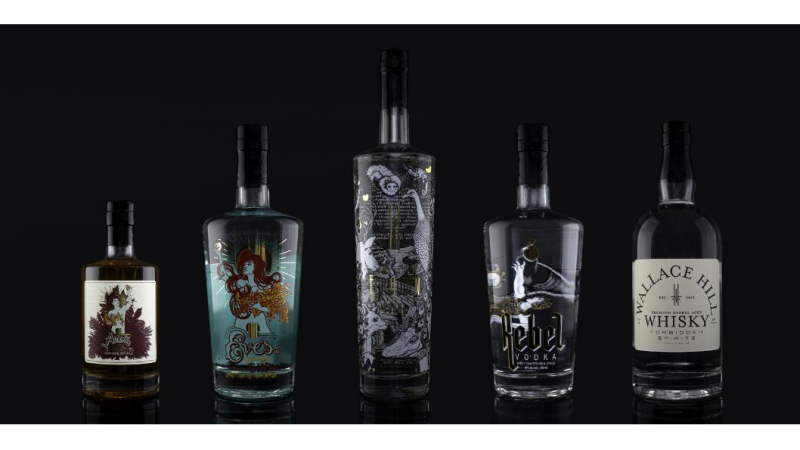 Click Image To View Full Size
Forbidden Spirits currently manufactures and distributes a portfolio of ultra-premium brands including:
REBEL Vodka 

Eve's Original Gin,  

Adam's Apple Brandy,  

Forbidden Fire,  

Forbidden Spirits Vodka, and  

Wallace Hill Whisky. 
Additional information with respect to Forbidden Spirits and its portfolio of ultra-premium spirits can be found on Forbidden Spirits' website at www.forbiddenspirits.ca.
ON BEHALF OF THE BOARD OF DIRECTORS:
Blair Wilson
Chairman and CEO
Email:         blair@forbiddenspirits.ca
Phone: (250) 317-0996
Forward-Looking Information
This press release contains forward-looking statements and information based on the beliefs of management and reflects the Company's current expectations. When used in this press release, the words "estimate", "project", "belief", "anticipate", "intend", "expect", "plan", "predict", "may" or "should" and the negative of these words or such variations thereon or comparable terminology are intended to identify forward-looking statements and information. Risks and uncertainties that may cause actual results to differ materially from those contemplated in those forward-looking statements and information.
Forward-looking statements in this document include statements regarding the Company's expectations regarding the terms the Private Placement and receipt of related regulatory approvals, the timing and ability of the Company to close the Private Placement and other statements that are not historical facts. By their nature, forward-looking statements involve known and unknown risks, uncertainties and other factors which may cause our actual results, performance or achievements, or other future events, to be materially different from any future results, performance or achievements expressed or implied by such forward-looking statements. Such factors include, among others, that there is no assurance that Forbidden Spirits will obtain the requisite regulatory approvals for the Private Placement, including those required from the Exchange; or that the Private Placement will close on the terms anticipated or at all
Such forward-looking statements are based on a number of assumptions including, but not limited to the economy generally; the COVID-19 pandemic; adverse industry events; the receipt of required regulatory approvals and the timing of such approvals; consumer interest in the services and products of the Company; financing; competition; and anticipated and unanticipated costs. Although the Company has attempted to identify important factors that could cause actual actions, events, or results to differ materially from those described in forward-looking statements, there may be other factors that cause actions, events or results not to be as anticipated, estimated or intended.
THE FORWARD-LOOKING INFORMATION CONTAINED IN THIS PRESS RELEASE REPRESENTS THE EXPECTATIONS OF THE COMPANY AS OF THE DATE OF THIS PRESS RELEASE AND, ACCORDINGLY, IS SUBJECT TO CHANGE AFTER SUCH DATE. READERS SHOULD NOT PLACE UNDUE IMPORTANCE ON FORWARD-LOOKING INFORMATION AND SHOULD NOT RELY UPON THIS INFORMATION AS OF ANY OTHER DATE. WHILE THE COMPANY MAY ELECT TO, IT DOES NOT UNDERTAKE TO UPDATE THIS INFORMATION AT ANY PARTICULAR TIME EXCEPT AS REQUIRED IN ACCORDANCE WITH APPLICABLE LAWS.

Neither the TSX Venture Exchange nor its Regulation Services Provider (as that term is defined in the policies of the TSX Venture Exchange) accepts responsibility for the adequacy or accuracy of this press release.
NOT INTENDED FOR DISTRIBUTION TO UNITED STATES NEWS WIRE SERVICES OR FOR DISSEMINATION IN THE UNITED STATES