Canada One Commences Field Work Program at 100% Owned Copper Dome Project, Princeton, British Columbia
Vancouver, B.C. - TheNewswire - June 07, 2023 - Canada One Mining Corp. ("Canada One" or the "Company") (TSXV:CONE) is pleased to announce it has commenced exploration field work at its 100% owned Copper Dome Project (the "Project", "Property" or "Copper Dome") located south of Princeton, British Columbia.
The Project is contiguous to the south of Copper Mountain Mining Corporation's (TSXV: CMMC) currently producing Copper Mountain Mine (Figure 1), which hosts a Proven and Probable Mineral Reserve of 702 Mt of 0.24% Cu (cumtn.com). Copper Dome's northern boundary lies 1.5km from the mine's deposits.
Regionally, it is located within the lower portion of the Quesnel Trough porphyry belt, a well-established mining district. The belt extends north from the Copper Mountain Mine, through the Elk, Brenda, Craigmont, Highland Valley, and New Afton mines (Figure 2). Canada One's exploration work will include geochemistry, geophysics, and a drill program.
Past Exploration Highlights Include:
Airborne magnetics flown over the entire Project 

51km of induced polarization (IP) surveyed over areas of interest 

Electro-magnetics surveyed over half of the Project area 
2,253 soil and 378 rock samples collected 

Over 8900m of diamond drilling  

The palladium (Pd), platinum (Pt) and gold (Au) potential on the Property has been under-explored  

Multiple zones of mineralization have been discovered on the Property 

Majority of the Property, predominantly the southern portion, has had little to no exploration  
Exploration Field Work
Snow has abated and the fieldwork season can now start in full earnest at the Copper Dome. The Project has a long history of exploration dating back 50 years. Several drilling programs and geophysical surveys have been conducted over the years and are currently being compiled into a digital Leapfrog model (see news release dated, June 1, 2023). The field work program outline is larger than past programs conducted by previous operators and therefore some gaps in the survey data exist. The objective of the survey work is to close those existing gaps.

Click Image To View Full Size
Figure 1. Location Map: Proximity of Copper Dome to Copper Mountain Mine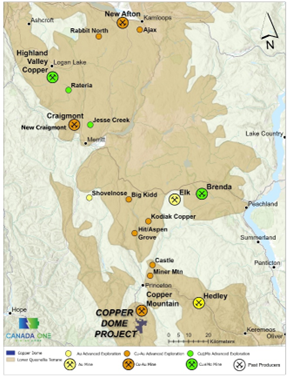 Figure 2. Location Map: Lower Quesnel Trough Porphyry Belt
Exploration Field Work Details
Mobile Metal Ion (MMI)
Currently, the Company is completing a MMI geochemistry survey. The survey is intended to overlap with the older geochemical and 2010 Titan IP geophysical grid. This MMI work will be used to confirm the outline of the Induced Polarization (IP) grid scheduled for later this summer.
MMI is a recently developed geochemical technique that measures in parts per billion the trapped metal ions in the upper soil horizon. One of the advantages to this type of survey is the ability to detect a mineralized body beneath a body of unmineralized, transported surficial cover, like glacial till.
Titan Survey
The Titan Survey is a distributed array-based geophysical system that collects two separate geophysical surveys; Direct Current Induced Polarization (DCIP) as well as Magneto-telluric (MT).  DCIP provides resistivity and chargeability sections, and the MT provides a deeper resistivity section. The technology behind TITAN allows the system to sample data very rapidly and measure very small signals. The DCIP data is typically and routinely collected to depths of 500-750m and the MT data is collected to depths of 1500m and greater allowing for survey detection at much deeper levels than more traditional surveys.
Phased Drill Program
This summer work will be used to refine drill targets for a first phase diamond drill program. While surface targets for drilling have already been identified the Company believes merging the 2010 and 2023 IP data with the magnetics and MMI geochemistry will further refine these targets, outlining more specifically, porphyry mineralization for testing.
Current Financing
The Company announced that it is undertaking, a Listed Issuer Financing Exemption (LIFE) Offering of up to 3,000,000 Units, and a non-brokered private placement of up to 15,000,000 Units on the same terms (the "Private Placement"), for gross proceeds of up to $1,800,000 (see news release dated April 25, 2023). As disclosed in the Offering Document, the Company intends to use the net proceeds from the LIFE Offering and Private Placement to fund its exploration and development of the Company's properties, extinguish liabilities and payables and for general administrative and working capital expenses. The Company's field work program is subject to the closing of the Private Placement.    
Exploration History
Friday Creek Zone
In 2007, diamond drilling was performed by the Company on the Friday Creek Zone in the northwest corner of the Project and returned the following highlighted intercepts (AR 33852):
DDH FC-11: 156m 0.09% Cu, including 10m of 0.7% Cu and 0.8 g/t Au 

DDH FC-12: 42.6m of 0.28% Cu, including 6m of 1.5% Cu and 0.7 g/t Au 
Combination Creek Zone
The Combination Creek Zone located within the northeast corner of the Project shows stockwork veining associated with hornfels within the volcanic and sedimentary rocks adjacent to the Copper Mountain stock. The best mineralization in the Combination Creek zone drilled to date is found in a 70 to 100m wide section of Nicola volcanics extending at least 250m east west, bounded to the north by the Copper Mountain Stock and to the south by a coarse pink feldspar porphyry syenite dyke.
Drilling by the Company in 2010, 2011 and 2012 in the Combination Creek Zone returned the following highlighted intercepts (AR 33070, AR 33852):
DDH PT-10-01: 50m of 0.15% Cu, including 12m 0.28%  

DDH PT-10-02: 45m of 0.17% Cu, including 10m 0.44%  

DDH PT-10-06: 19.5m of 0.71% Cu, including 6.4m 1.25% 

DDH PT-11-18: 102.7m of 0.14% Cu, including 6m 0.29%  

DDH PT-11-21: 32m of 0.21% Cu, 10m of 0.19%, 33m of 0.14%, 38m of 0.56% 

DDH PT-12-26: 20M of 0.67% Cu, including 14m of 0.86% 
The sampling was done to the standards of the time and is considered "historical" in nature and is not NI43-101 compliant and cannot be relied upon. The results are listed here to show why the Company is interested in this area. Future work and drilling may not repeat similar results.
Copper Mountain Mine
The Copper Mountain Mine, which is contiguous to the north of Copper Dome, is a conventional open pit, truck and shovel operation. The mine has a 45,000 tonnes per day plant that utilizes a conventional crushing, grinding and flotation circuit to produce copper concentrates with gold and silver credits. A new life of mine plan to expand the mill to 65,000 tonnes per day, further increases average annual production to 138 million pounds of copper equivalent and reduces all-in costs to US$1.76 per pound of copper over the first 20 years of a 32-year mine life. The 65,000 tonnes per day mill expansion, including the integration of New Ingerbelle, brings Copper Mountain Mine's after-tax NPV at an 8% discount to US$1.245 billion (see Life of Mine Plan Expansion Study Technical Report, Copper Mountain Mining Corporation, Sept. 2022). Further potential exists through the upgrading of Mineral Resources to Mineral Reserves and further exploration to continue to extend the mine life and add value.
The Company cautions the discoveries and observations on properties in proximity to the Company's properties are not necessarily indicative of the presence of similar mineralization or geology on the Company's properties.
Qualified Person
The technical information contained in this news release has been reviewed and approved by Freeman Smith, P.Geo., a Qualified Person for the purposes of National Instrument 43-101.
For further information, interested parties are encouraged to visit the Company's profile on SEDAR (www.sedar.com) or contact the Company at info@evolvemgmt.net.
On behalf of the Board of Directors of
CANADA ONE MINING CORP.
Peter Berdusco
President and Chief Executive Officer
1 877 844 4661
Forward-Looking Statements
This press release includes certain "forward-looking information" and "forward-looking statements" (collectively "forward-looking statements") within the meaning of applicable Canadian securities legislation. All statements, other than statements of historical fact, included herein, without limitation, statements relating to the future operating or financial performance of the Company, are forward looking statements. Forward-looking statements are frequently, but not always, identified by words such as "expects", "anticipates", "believes", "intends", "estimates", "potential", "possible", and similar expressions, or statements that events, conditions, or results "will", "may", "could", or "should" occur or be achieved. Forward-looking statements in this press release relate to, among other things: statements relating to the successful closing of the Offering and anticipated timing thereof and the intended use of proceeds. Actual future results may differ materially. There can be no assurance that such statements will prove to be accurate, and actual results and future events could differ materially from those anticipated in such statements. Forward looking statements reflect the beliefs, opinions and projections on the date the statements are made and are based upon a number of assumptions and estimates that, while considered reasonable by the respective parties, are inherently subject to significant business, technical, economic, and competitive uncertainties and contingencies. Many factors, both known and unknown, could cause actual results, performance or achievements to be materially different from the results, performance or achievements that are or may be expressed or implied by such forward-looking statements and the parties have made assumptions and estimates based on or related to many of these factors. Such factors include, without limitation: the timing, completion and delivery of the referenced assessments and analysis. Readers should not place undue reliance on the forward-looking statements and information contained in this news release concerning these times. Except as required by law, the Company does not assume any obligation to update the forward-looking statements of beliefs, opinions, projections, or other factors, should they change, except as required by law.
TSX Venture Exchange Disclaimer
Neither the TSX Venture Exchange nor its Regulation Services Provider (as that term is defined in the policies of the TSX Venture Exchange) accepts responsibility for the adequacy or accuracy of this release.