Canada One to Acquire Contiguous Land Package, Doubling Size of Copper Dome Exploration Area, Princeton, British Colombia
Vancouver, B.C. - TheNewswire - September 26, 2023 - Canada One Mining Corp. ("Canada One" or the "Company") (TSXV:CONE) (OTC:COMCF) (FSE:AU31) is pleased to announce it has entered into a share purchase agreement (the "Purchase Agreement"), dated September 25, 2023, with Rockhound Copper Inc. ("Rockhound") and each of the shareholders of Rockhound (collectively, the "Vendors"), pursuant to which the Company will acquire all of the issued and outstanding share capital of Rockhound (the "Acquisition"). Rockhound owns 2,974 hectares ("Copper Dome South") of prospective ground contiguous to the south of the Company's existing Copper Dome Project (the "Copper Dome Project" or the "Property") located in Princeton, British Columbia.
Mr. Peter Berdusco, President and CEO of Canada One commented: "We feel very fortunate to secure a large contiguous land package in the highly sought after, competitive location just south of the Copper Mountain Mine operated by Hudbay Minerals. This not only doubles our land position, but it will also provide us with additional prospective ground greatly expanding our exploration at Copper Dome."
Highlights
The Acquisition will increase the Copper Dome Project's exploration area from 2,262 to 5,236 hectares 

Historical Titan 24 geophysical survey identified 2 high chargeability zones anomalies, both over 1km in length and 300 m in depth 

Historical airborne mag survey identified 7 target areas for exploration follow‑up 

Recent soil geochemical sampling at Copper Dome South has identified anomalies for Cu, Zn, precious and platinum group metals 
Terms of the Purchase Agreement
Under the terms of the Purchase Agreement, in consideration for all the issued and outstanding shares of Rockhound, the Company will, upon closing of the Acquisition (the "Closing"): (i) issue 12,000,000 common shares of the Company (the "Consideration Shares") to the Vendors; (ii) and make a cash payment of $20,000. In addition, the Company will make a further cash payment of $20,000 within six months of the Closing. The Consideration Shares issued to the Vendors are issued at a deemed value of $0.09 per Consideration Share, for an aggregate value of $1,080,000, and represents 26.3% of the issued and outstanding common shares of the Company on a post‑issuance basis.
Under the terms of the Purchase Agreement, if the Company drills 0.15% copper or greater over a 100 meter or greater interval length on Copper Dome South, it will issue an additional bonus of 1,000,000 common shares. If a preliminary economic assessment is completed on Copper Dome South, the Company will issue a further bonus of 1,000,000 common shares. Copper Dome South is also subject to a 3% net smelter royalty in favor of the Vendor. The Company has an option to purchase up to 2% of the net smelter royalty for $2,000,000.
The Company is relying on the prospectus and registration exemption under Section 2.16 of National Instrument 45-106 – Prospectus Exemptions in issuing the Consideration Shares. As a result, the Consideration Shares will not be subject to a hold period.  No finders' fees or commissions are payable in connection with completion of the Acquisition.
Closing of the Acquisition is subject to a number of conditions, including: the approval of the TSX Venture Exchange (the "Exchange") and the satisfaction of all other closing conditions specified in the Purchase Agreement. The Acquisition does not involve any Non-Arm's Length Parties (as defined in the policies of the Exchange) to the Company.
In connection with Acquisition, Rockhound does not have any material liabilities and the Company does not expect to assume any material obligations related to Copper Dome South, nor does it expect to devote the majority of its working capital or resources to the development of Copper Dome South. The primary focus of the Company at this time remains the planned exploration and drilling work at the existing Copper Dome Project. As a result, the Acquisition does not constitute a "fundamental acquisition" for the Company within the policies of the Exchange. The issuance of the Consideration Shares to the Vendors will not result in a change of control of the Company, within the meaning of applicable securities laws and the policies of the Exchange.
Copper Dome South Overview
Past work on Copper Dome South comprises of several exploration programs going back as early as 1972. These programs were small and limited in extent. No major exploration programs were undertaken at the property until 2009.
In 2009, Quantec Geosciences conducted an 8.2km Titan 24 DC/IP survey on behalf of Supreme Resources Ltd. The two-line survey each 4.1kms in length, in a north south direction, delineated two high chargeability anomalies on line 82100E and 83100E.
Line 82100E, shows a high chargeability zone extending 2km in length and over 400m in depth and is open to the south. Line 83100E, located 1km to the east of line 82100E shows a high chargeability zone 1km in length, within a magnetic low signature with a dimension of 400m by 400m wide, within a high chargeability setting extending past 400m in depth.
Lines 82100E and 83100E also show an extensive highly chargeable feature in the southern end of the line, open at depth. This zone covers almost 2 km of line 82100E, and over 1 km of line 83100E.
An Airborne Magnetometer survey conducted in 2020 indicates magnetic signatures associated with northwest southeast trending faults. Several targets were identified with similar geophysical signatures to the east and west in the surrounding claim area.
The most recent exploration work on the property has delineated two soil geochemical anomalies for copper/zinc and elevated precious and platinum group metals.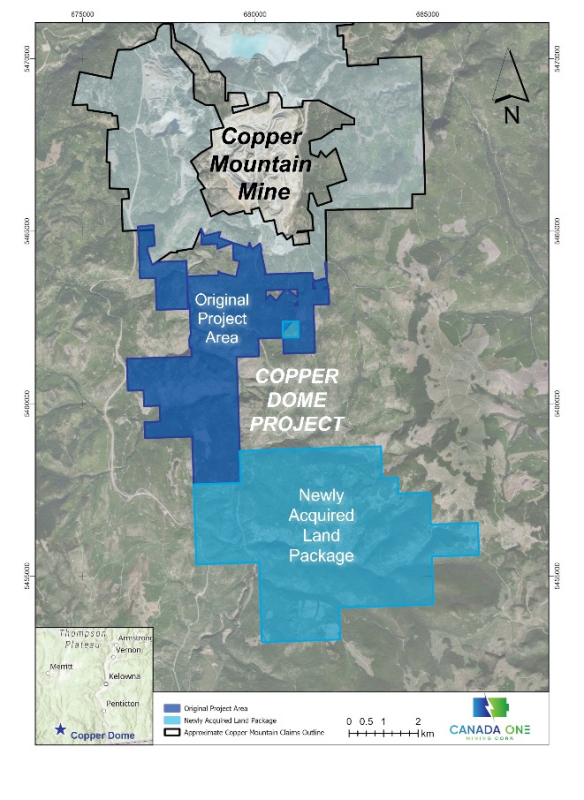 Click Image To View Full Size
Figure 1: Original Copper Dome Project Area
including Newly Acquired Land Package (Copper Dome South)
Copper Dome Project
The Property is contiguous to Hudbay Minerals Inc.'s (TSX: HBM) currently producing Copper Mountain Mine, which hosts a proven and probable mineral reserve of 702 Mt of 0.24% Cu (cumtn.com). The Property's northern boundary lies 1.5km from the mine's deposits.
Copper Mountain Mine
The Copper Mountain Mine, which is contiguous to the north of the Copper Dome Project, is a conventional open pit, truck and shovel operation. The mine has a 45,000 tonnes per day plant that utilizes a conventional crushing, grinding and flotation circuit to produce copper concentrates with gold and silver credits. A new life of mine plan, to expand the mill to 65,000 tonnes per day, further increases average annual production to 138 million pounds of copper equivalent and reduces all-in costs to US$1.76 per pound of copper over the first 20 years of a 32-year mine life. The 65,000 tonnes per day mill expansion, including the integration of New Ingerbelle, brings Copper Mountain Mine's after-tax NPV at an 8% discount to US$1.245 billion (see Life of Mine Plan Expansion Study Technical Report, Copper Mountain Mining Corporation, September 2022).
The Company cautions that the discoveries and observations on properties in proximity to the Copper Dome Project are not necessarily indicative of the presence of similar mineralization or geology on the Property.
Qualified Person
The technical information contained in this news release has been reviewed and approved by Freeman Smith, P.Geo, a Qualified Person for the purposes of National Instrument 43‑101.
For further information, interested parties are encouraged to visit the Company's profile on SEDAR+ (www.sedar.com), its website at www.canadaonemining.com or contact the Company at ir@strategixir.com.
On behalf of the Board of Directors of
President and Chief Executive Officer
Forward-Looking Statements
This press release includes certain "forward-looking information" and "forward-looking statements" (collectively "forward-looking statements") within the meaning of applicable Canadian securities legislation. All statements, other than statements of historical fact, included herein, without limitation, statements relating to the future operating or financial performance of the Company, are forward looking statements. Forward-looking statements are frequently, but not always, identified by words such as "expects", "anticipates", "believes", "intends", "estimates", "potential", "possible", and similar expressions, or statements that events, conditions, or results "will", "may", "could", or "should" occur or be achieved. Forward-looking statements in this press release relate to, among other things: statements relating to the successful closing of the Acquisition and anticipated timing thereof and the intended use of proceeds. Actual future results may differ materially. There can be no assurance that such statements will prove to be accurate, and actual results and future events could differ materially from those anticipated in such statements. Forward looking statements reflect the beliefs, opinions and projections on the date the statements are made and are based upon a number of assumptions and estimates that, while considered reasonable by the respective parties, are inherently subject to significant business, technical, economic, and competitive uncertainties and contingencies. Many factors, both known and unknown, could cause actual results, performance or achievements to be materially different from the results, performance or achievements that are or may be expressed or implied by such forward-looking statements and the parties have made assumptions and estimates based on or related to many of these factors. Such factors include, without limitation: the timing, completion and delivery of the referenced assessments and analysis. Readers should not place undue reliance on the forward-looking statements and information contained in this news release concerning these times. Except as required by law, the Company does not assume any obligation to update the forward-looking statements of beliefs, opinions, projections, or other factors, should they change, except as required by law.
TSX Venture Exchange Disclaimer
Neither the TSX Venture Exchange nor its Regulation Services Provider (as that term is defined in the policies of the TSX Venture Exchange) accepts responsibility for the adequacy or accuracy of this release.