Belmont Announces New Stock Option Plan
September 22, 2023 – TheNewswire - Vancouver, B.C., Canada - Belmont Resources Ltd. ("Belmont" or the "Company") (TSXV:BEA); (FSE:L3L2) announces that the Board has approved the adoption of a 10% fixed stock option plan effective July 28, 2023 which replaces the Company's legacy 10% rolling plan subject to the approval of the TSX Venture Exchange (TSX.V).
The new stock option plan provides for the granting of 7,868,372 options (10% of the total 78,683,372 issued and outstanding) of which currently 3,158,372 are available for new grants.
The Board has reasoned that the new stock option plan will satisfy the objective to attract and retain our personnel as well as aligning with the interests of our shareholders. All previously granted options shall be continue to exist and be exercisable under the new plan.
About Belmont Resources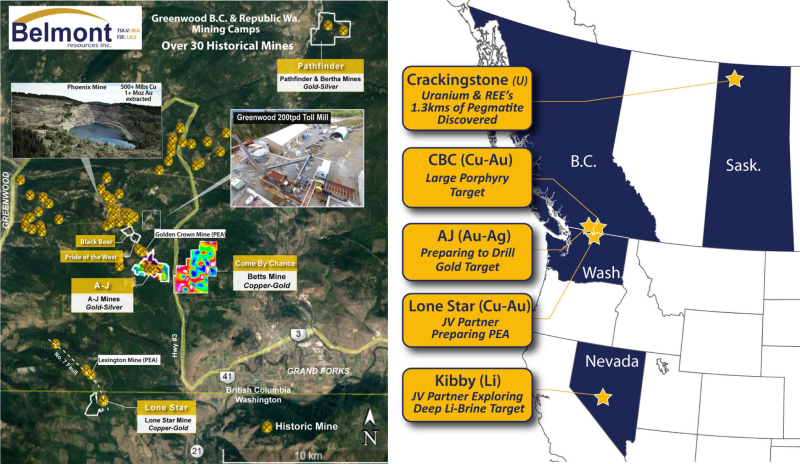 Click Image To View Full Size

 Belmont Resources has assembled a portfolio of highly prospective copper, gold, lithium, uranium and rare earths projects located in British Columbia, Saskatchewan, Washington and Nevada States.
Athelstan-Jackpot (A-J): 2 former gold mines. Planned 2,000m drilling to target multi-coincident geophysical anomaly on strike with neighboring gold trend and gold mines.  
CrackingstoneUranium-Rare Earths: Some of the highest grade Rare Earth Elements (REE's) are being discovered in Northern Saskatchewan due to the presence of Uranium, Thorium Pegmatites. Crackingstone project meets the criteria for potentially discovering a large REE's deposit with its high grade uranium along with thorium and pegmatite. A review of 3,000m of 2008 drill data shows a 1.3km pegmatite dyke drilled but only assayed for uranium at that time. 2023 plans are to re-assay pegmatite sections for REE's ;
 

Come By Chance (CBC): 2021 geophysics delineated potential large copper-gold porphyry
2022 drilling provided further vectors towards potential core of porphyry;
 

The Lone StarCopper-Gold: optioned to Australian Marquee Resources ASX:MQR. MQR has spent in excess of $2.5M in drilling, completed new resource in Dec. 2022, and is currently preparing a Preliminary Economic Assessment in order to earn 80% interest.
 

The Kibby Basin Lithium project located 60 kilometers north of the lithium rich Clayton Valley Basin: Optioned 80% of the central Kibby Playa claim block to Australian Marquee Resources - MQR. MQR has spent in excess of $2.5M in drilling in 2022 for potential deep seated lithium brine. 2022 Drilling confirmed high levels of lithium-bearing sediments along with dissolved lithium in the groundwater. Mineralized intervals containing up to 924 ppm lithium with greater than 300 ppm lithium over thicknesses in excess of 450m have been identified in core samples of clay-rich playa sediments. 
 ON BEHALF OF THE BOARD OF DIRECTORS
"George Sookochoff"
George Sookochoff, CEO/President
Neither the TSX Venture Exchange nor its Regulation Services Provider (as the term is defined in the policies of the TSX Venture Exchange) accepts responsibility for the adequacy or accuracy of this news release.  
This Press Release may contain forward-looking statements that may involve a number of risks and uncertainties, based on assumptions and judgments of management regarding future events or results that may prove to be inaccurate as a result of exploration and other risk factors beyond its control.   Actual events or results could differ materially from the Companies forward-looking statements and expectations.  These risks and uncertainties include, among other things, that we may not be able to obtain regulatory approval; that we may not be able to raise funds required, that conditions to closing may not be fulfilled and we may not be able to organize and carry out an exploration program in 2023, and other risks associated with being a mineral exploration and development company. These forward-looking statements are made as of the date of this news release and, except as required by applicable laws, the Company assumes no obligation to update these forward-looking statements, or to update the reasons why actual results differed from those projected in the forward-looking statements.