Cullinan Metals Provides Update on Exploration Programs in Ontario and Quebec Lithium Properties
Vancouver, BC - TheNewswire - September 26, 2023 - Cullinan Metals Corp. (CSE:CMT) (OTC:CMTNF) (FWB:7KO) ("Cullinan" or the "Company") is pleased to provide an update on the progress of its ongoing exploration work being carried out on the Ontario and Quebec lithium properties (the "Properties"). The field prospecting, geological mapping and sampling program have identified several pegmatites which are being mapped and sampled. Initial scanning of samples is being carried out by using a laser-induced breakdown spectroscopy ("LIBS") analyzer in the field which has recently emerged as a tool for geochemical analysis outside the traditional laboratory setting. Higher lithium value samples are being prepared for detailed analysis in a Canadian Certified Laboratory. Two helicopters from Great Lakes Helicopter Company of Breslau, Ontario, have been chartered on an as-and-when-required basis to support the current fieldwork program.
Highlights
Quebec Properties
Exploration work on the Wells Lake, VN properties in Val d'Or region and James Bay Lithium (JBL) properties has been completed. Out of these properties, JBL stands out the best in terms of the availability of pegmatites and its favorable geological characteristics for lithium mineralization. A total number of 55 pegmatites have been mapped on the JBL property, ranging in width from 20 cm to 5m and rarely up to 10m wide, and 1m to 50m and rarely up to 200m long. The property claims are spread over a large area. Only the most prominent ridges could be visited and prospected for lithium during the current working period. There were many small and low-lying outcrops which could not be prospected due to time constraints. JBL has the right geology for the occurrence of spodumene and requires more detailed and systematic rock and soil sampling, along with some geophysical work. The field team is currently working on James Bay Spodume (JBS) property.
Ontario Properties
Exploration work on the Flower Falls, East Haig and West Haig, Flash Lake North, and Lilly Pad has been completed. Several pegmatite outcrops were mapped and sampled to check their favourability for lithium mineralization. The field team is currently working on the Dory Aerial-Lake and Wakeman properties. A total of 99 rock samples and 23 soil samples have been collected to date, out of which 27 rock samples were shipped to Activation Laboratories in Dryden, Ontario for analysis. Nine hundred ninety-three LIBS scanning tests were conducted on rock samples to assess their favourability for hosting lithium mineralization and selected samples for further testing at the laboratory.
The Program
During the current phase of exploration ("Phase One Exploration"), two experienced field teams have been deployed to conduct field prospecting activities across the Ontario and Quebec Lithium properties. This process involves a systematic examination of the multiple fertile granitic pegmatite dykes. Furthermore, pegmatite sampling and trenching are also carried out to assess the presence and distribution of lithium-bearing pegmatites within each of the property. This crucial step will provide valuable insights into the mineralogy and lithium content of the identified pegmatites, aiding in the development of an extensive understanding of the property's lithium exploration potential for further work. Initial scanning of samples is being carried out by using LIBS.
Marc Morin, CEO of Cullinan, expressed his satisfaction with the progress of the exploration work programs, stating. "We are very excited with the current exploration work outcome. The field teams have successfully identified several pegmatites on these properties. This program will help the Company to evaluate the lithium potential of each property and to prioritize our efforts for further work."
About the Properties
Ontario Properties
The Ontario lithium properties which include Dory Aerial – Lake, East Haig, West Haig, Flower Fall, Lily Pad and Flash Lake North properties, are located in a lithium-favorable geological setting of northwestern Ontario in the vicinity of the Georgia Lake, Mavis Lake, Separation Rapids, GT1's Root Lake lithium projects in the northwestern Ontario.
Quebec Properties
The Quebec lithium properties are located mainly in two prolific geological regions: a) the James Bay area ( Mia 1 or James Bay Pegmatite and Mia 2 or James Bay Spodume properties) where several new lithium discoveries have been made alongside the historical deposits; and b) in the Val d'Or region (VS and VN properties) located within the Archean Preissac-Lacorne batholith, a geological region with known lithium deposits, prospects and an existing lithium mine (North American Lithium or NAL).
The scientific and technical information contained in this news release has been reviewed and approved by Afzaal Pirzada, P.Geo., a Qualified Person as defined by National Instrument 43-101 - Standards of Disclosure for Mineral Projects.
Photo: Amazonite mineral in a pegmatite from JBL Property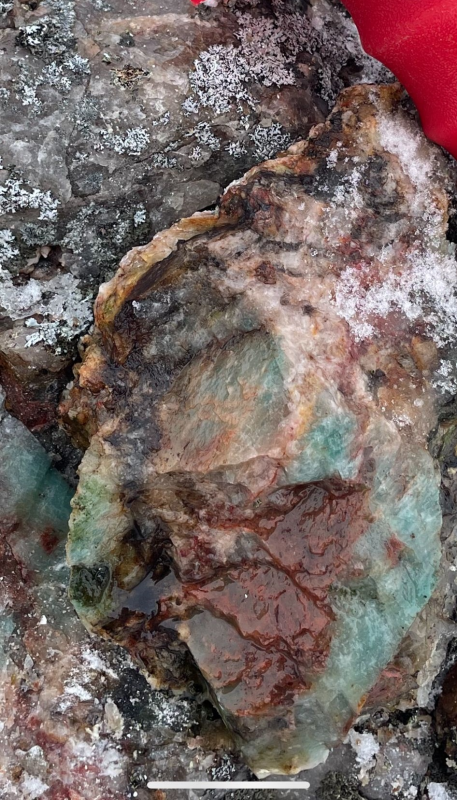 Click Image To View Full Size
Photo: Pegmatite sample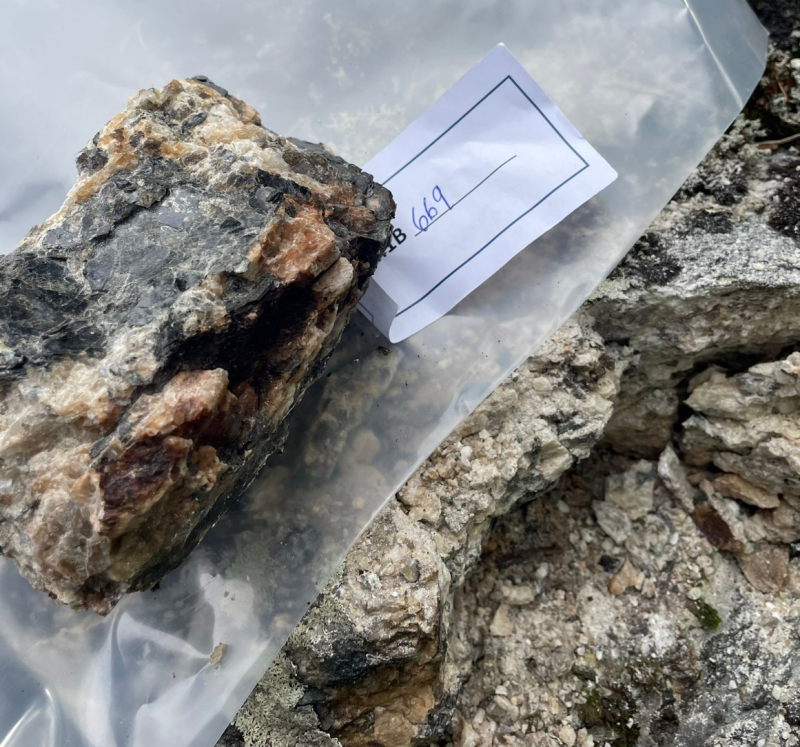 Click Image To View Full Size
Photo: Rock chip samples from Ontario properties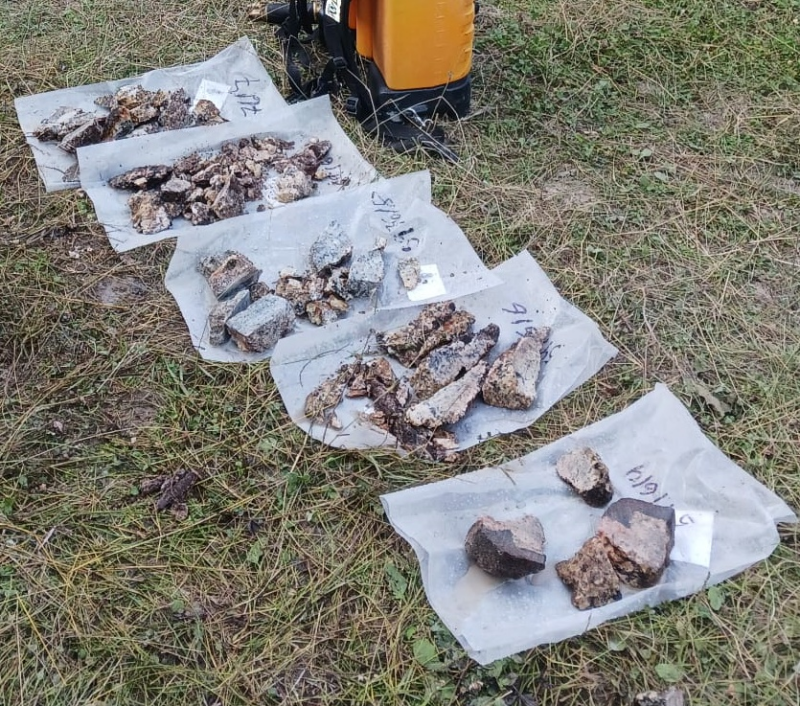 Click Image To View Full Size
The Company also wishes to announce that it has closed a non-brokered private placement of one hundred thousand units (each, a "Unit") for gross proceeds of fifty-two thousand dollars. (the "Offering").
Each Unit consists of one common share in the capital of the Company (each, a "Share") and one transferable common share purchase warrant (each whole warrant, a "Warrant"). Each Warrant entitles the holder to acquire one Share at a price of seventy cents per Share for a period of sixty months from the date of closing of the Offering. In the event that the Shares trade at a price of one dollar and above for ten consecutive trading days, the Company may, at its option, accelerate the Warrant expiry date by providing notice (the "Acceleration Notice") to the Warrant holders by way of a news release that the Warrants will expire on the thirtieth day from the date of the Acceleration Notice.
There is no finders fee paid in connection with the Offering. The net proceeds of the Offering will be used for working capital and general corporate purposes.
The securities issued under the Offering are subject to a statutory hold period of four months and one day in accordance with applicable securities legislation.
On behalf of the Company,
CULLINAN METALS CORP.
Marc Enright-Morin
CEO
(604) 669-9788
About Cullinan Metals Corp.
Cullinan Metals Corp. is a Canadian mining and exploration company focused on the development of energy metals. With a strong emphasis on key energy resources such as copper, graphite, and lithium assets, Cullinan is dedicated to unlocking the potential of these resources globally.
Cautionary Statement
The information regarding adjacent lithium prospects and deposits in this news release is taken from publicly available sources. The Company has not been able to independently verify the information contained therein. The information is not necessarily indicative of the mineralization on the Properties, which are the subject of this news release.
Forward-looking statements
Certain statements made, and information contained herein may constitute "forward looking information" and "forward looking statements" within the meaning of applicable Canadian securities legislation. These statements and information are based on facts currently available to the Company and there is no assurance that actual results will meet management's expectations. Forward-looking statements and information may be identified by such terms as "anticipates", "believes", "targets", "estimates", "plans", "expects", "may", "will", "speculates", "could" or "would".
Although the Company believes that the assumptions and factors used in preparing the forward-looking information are reasonable, undue reliance should not be placed on such information and no assurance can be given that such events will occur in the disclosed time frames or at all. New risk factors emerge from time to time, and it is impossible for the Company's management to predict all risk factors, nor can the Company assess the impact of all factors on Company's business or the extent to which any factor, or combination of factors, may cause actual results to differ from those contained in any forward-looking information.
The forward‐looking statements set forth herein concerning the Company reflect management's expectations as at the date of this news release and are subject to change after such date. The Company disclaims any intention or obligation to update or revise any forward looking statements, whether as a result of new information, future events or otherwise, other than as required by law.