Starmet Ventures Inc. Acquires Mining Claims Located Near Ear Falls, Ontario
Claims are contiguous to Beyond Lithium's Recent Spodumene Discovery
VANCOUVER, B.C. – TheNewswire - September 26, 2023 - STARMET VENTURES INC. (CSE:STAR) (the "Company" or "STARMET"), is pleased to announce it has completed the previously announced acquisition of 302 mineral claims (the "Claims") located near Ear Falls in the province of Ontario. The Claims cover approximately 6,040 hectares. The Claims are located between 1 km and 16 km (depending on the claim block) from Ear Falls, Ontario (Figure 1), and are easily accessible year-round by way of well-maintained highway and logging roads and feature good outcrop exposure.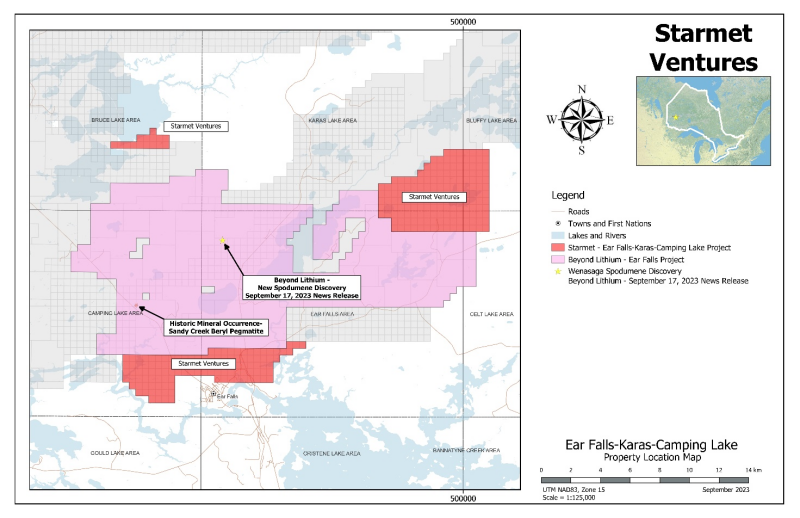 Click Image To View Full Size
Figure 1: Location of Starmet Ventures Claim in Ear Falls Area
The Claims are contiguous to Beyond Lithium Inc.'s (CSE: BY) recent spodumene discovery (Figure 1). On September 17, 2023 Beyond Lithium Inc. announced that it had discovered a new spodumene bearing pegmatites zone at its Ear Falls Project, along a structural controlled zone of over 1 km in strike length with grab samples assayed up to 4.54% Li2O from spodumene pegmatites. The host rock for the spodumene pegmatites is the Wenasaga Lake batholith.
Regionally, the Wenasaga Lake batholith is described as a S-type pluton and is likely the plutonic source of the Sandy Creek beryl pegmatites located on the Beyond Lithium claims. The batholith was mapped concordant to the Uchi-English River sub provincial boundary covering approximately 260 km2 in area (Breaks 2003)2. The Sandy Creek beryl bearing pegmatites were noted to follow this regional foliation orientation of the host metasedimentary rock (Breaks 1993).1 This regional NE structure is an ideal host and fluid pathway for the formation and fractionation of LCT pegmatites (Bradley 2017)2. The Sandy Creek beryl pegmatites are located 7 km southwest of the new Beyond Lithium Inc.'s spodumene pegmatites zone (Breaks 1993)1... They were discovered in the early 1960s and very limited to no exploration work has been done in that area since their discovery. The results from the adjacent Beyond Lithium property are not necessarily indicative of the mineralization on Starmet's properties.
Ohad David, CEO of Starmet commented: "We had been following the recent success of many lithium exploration companies in Ontario for quite some time. We are pleased to have secured a meaningful land position adjacent to the recent spodumene bearing pegmatite discovery announce by one of the preeminent exploration companies in Ontario." He added: "We will shortly be formalizing plan to send a technical team to our properties and commence an initial exploration phase."
Sources:
1 Breaks, F.W. and Bond, W.D., 1993. The English River Subprovince - An Archean Gneiss Belt: Geology, Geochemistry and associated mineralization; Ontario Geological Survey, Open File Report 5846, v.1, p.1-483, 884p.
2 Bradley, D.C., McCauley, A.D., and Stillings, L.M., 2017, Mineral-deposit model for lithium-cesium-tantalum pegmatites: U.S. Geological Survey Scientific Investigations Report 2010–5070–O, 48 p., https://doi.org/10.3133/sir20105070O.
Qualified Person
The scientific and technical information in this news release has been reviewed and approved by Steven L
McMillin CPG. Steven L McMillin CPG is a "qualified person" as defined in National Instrument 43-101
– Standards of Disclosure for Mineral Projects.
About Starmet Ventures Inc.:
Starmet Ventures Inc's principal business activities include the exploration of mineral resource properties with an emphasis on the Property located in Esmeralda County, Nevada.  Starmet's objective is to identify and develop economic mineral resource properties of merit and to conduct exploration programs thereon.
ON BEHALF OF STARMET VENTURES INC.
"Ohad David"
CEO and Director
T: 1 (778) 829-2979
E: davidohad@gmail.com
Forward-Looking Information:
This press release may include forward-looking information within the meaning of Canadian securities legislation, concerning the business of Starmet. Forward-looking information is based on certain key expectations and assumptions made by the management of Starmet. In some cases, you can identify forward-looking statements by the use of words such as "will," "may," "would," "expect," "intend," "plan," "seek," "anticipate," "believe," "estimate," "predict," "potential," "continue," "likely," "could" and variations of these terms and similar expressions, or the negative of these terms or similar expressions. . Forward-looking statements in this press release include that (a).
The Canadian Securities Exchange (CSE) has not reviewed and does not accept responsibility for the adequacy or the accuracy of the contents of this release.