Alianza Minerals Outlines Drilling Plans for 2023 at Haldane Silver Property, YT
Vancouver, BC – TheNewswire - January 30, 2023 - Alianza Minerals Ltd. ("Alianza") (TSXV:ANZ), (OTC:TARSF) is pleased to provide an outline of drilling and other exploration activities planned for the Haldane silver project in the historic Keno District, Yukon Territory. Work will include airborne electromagnetic and magnetics surveys and drilling at the high grade West Fault silver discovery and the emerging Bighorn silver target.
"We are excited to get back to the field at Haldane as early as ground conditions will allow, to continue to expand the high grade West Fault discovery. We are also eager to return to the Bighorn discovery, where a single drill hole to test this target identified a new silver bearing vein structure," states Jason Weber, President and CEO of Alianza Minerals. "Only 27 holes have been drilled from surface on the entire Haldane property, testing only a small fraction of the 12 km of cumulative strike length of silver bearing structures we have identified to date. Alianza's drilling has only tested approximately 400 metres of cumulative strike length, leaving plenty of room for expansion of known mineralization and discovery of new high grade silver zones."  
Management is planning airborne electromagnetic and magnetic surveys to help map lithologies, refine target structures (strike extensions and offsets) and potentially identify new target structures that may be silver bearing. This work would be followed up by trenching where applicable and diamond drilling. Drilling will target the extensions down plunge on the West Fault target where high-grade silver mineralization has been identified over an area 100 meters by 90 meters in size, and on two structural levels within the West fault structure. Drilling would aim to build on previous intersections at West fault including 1.8 metres of 818 grams per ton silver, 3.47% lead, 1.03% zinc and 3.14 metres of 1,315 grams per ton silver, 2.43% lead, 2.91% zinc (true widths). At least four holes are planned to test the extensions of this mineralization on 50 metre stepouts.
Drilling is also planned for the Bighorn target located 3 kilometers to the northwest of the West Fault. The Bighorn target was identified from soil geochemical sampling that returned anomalous values for lead and silver in soils. The only drill hole at this target returned 125.7 grams per ton silver and 4.39% lead over 2.35 metres from previously unrecognized vein structures. Trenching and groundwork in 2022 programs was able to refine targeting at Bighorn, and additional drilling will test this target for its potential to host wide, high grade silver mineralization.
Additional drilling will also target the Main and Middlecoff targets, and any targets generated from the geophysical data and trenching.
Figure 1 – West Fault Drill Plan.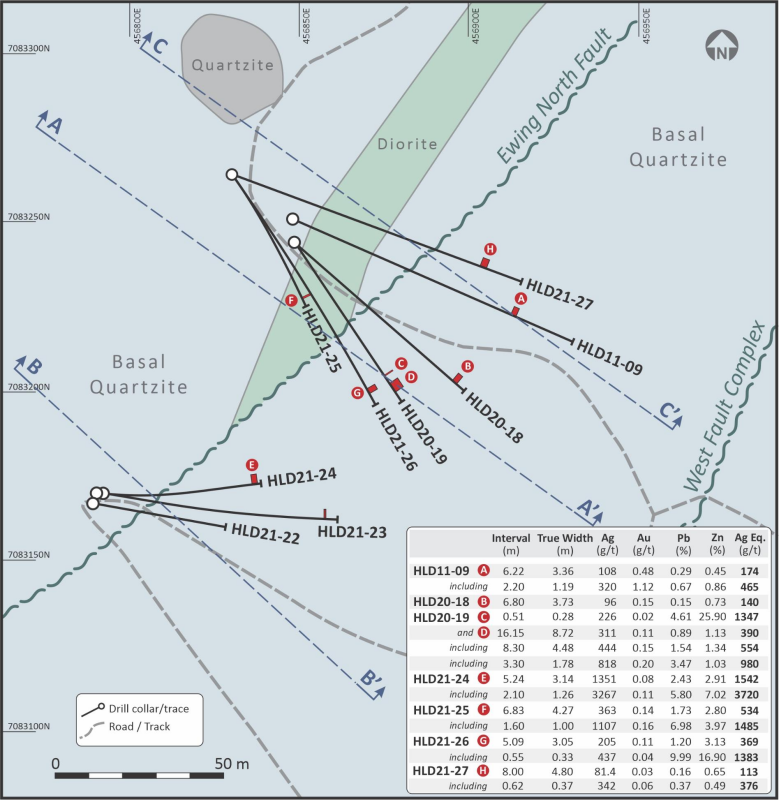 Click Image To View Full Size
*Silver-equivalent values are calculated assuming 100% recovery using the formula: ((20 * silver (g/t) / 31.1035) + (1650 * gold (g/t) / 31.1035) + (0.90 * 2204 * lead %/100) + (1.10 * 2204 * zinc %/100)) *(31.1035 / 20). Metal price assumptions are US$20/oz silver, US$1650/oz gold, US$0.90/lb lead and US$1.10/lb zinc.
Additional Projects
Drilling campaigns at Alianza's other projects are also planned for 2023. Partner Coeur Mining has identified targets for drilling at the high grade silver – lead - zinc carbonate replacement deposit (CRD) Tim Property, under option from Alianza. Once the necessary land use permit has been received, Coeur will be able to test targets on this high grade silver target 19 km from their Silvertip Mine project.
Partner Allied Copper is in the process of obtaining permits for drilling at the Stateline copper project, located 8 km from the Lisbon Valley Copper Mine on the Utah/Colorado state line. Permits are sought for a 6-hole campaign testing the same stratigraphy hosting the Lisbon Valley deposits. Management will be meeting with Allied Copper in the near term to discuss follow up drilling at Klondike, where 2022 drilling identified high grade copper mineralization on an interpreted splay off of the main West Graben Fault (4.26% copper over 1.06 metres). Drilling in 2022 did not reach the main strand of the West Graben Fault, and it remains a priority target for copper mineralization at Klondike.  
Alianza is also seeking a partner to fund drilling at Twin Canyon, a disseminated gold target in southwestern Colorado, where drilling permits were recently approved.
About Alianza Minerals Ltd.
Alianza employs a discovery-focused business model of joint venture funding and self-funded projects to maximize opportunity for exploration success. The Company's primary asset is the Haldane silver project and also currently has gold, silver and base metal projects in Yukon Territory, Colorado, Nevada and Peru. Alianza has one project (Tim, Yukon Territory) optioned out to Coeur Mining, Inc. and two optioned to Allied Copper within an alliance with Cloudbreak Discovery PLC. Alianza is actively seeking partners on other projects. Alianza also holds certain royalties on projects in North and South America.
Alianza is listed on the TSX Venture Exchange under the symbol "ANZ" and trades on the OTCQB market in the US under the symbol "TARSF".
Mr. Jason Weber, P.Geo., President and CEO of Alianza Minerals Ltd. is a Qualified Person as defined by National Instrument 43-101. Mr. Weber supervised the preparation of the technical information contained in this release.
For further information, contact:
Jason Weber, President and CEO
Sandrine Lam, Shareholder Communications
Tel:  (604) 807-7217                              
Fax: (888) 889-4874
To learn more visit: www.alianzaminerals.com
Twitter: https://twitter.com/AlianzaMinerals
LinkedIn: https://www.linkedin.com/company/alianza-minerals-ltd
NEITHER THE TSX VENTURE EXCHANGE NOR ITS REGULATION SERVICES PROVIDER (AS THAT TERM IS DEFINED IN THE POLICIES OF THE TSX VENTURE EXCHANGE) ACCEPTS RESPONSIBILITY FOR THE ADEQUACY OR ACCURACY OF THIS RELEASE. STATEMENTS IN THIS NEWS RELEASE, OTHER THAN PURELY HISTORICAL INFORMATION, INCLUDING STATEMENTS RELATING TO THE COMPANY'S FUTURE PLANS AND OBJECTIVES OR EXPECTED RESULTS, MAY INCLUDE FORWARD-LOOKING STATEMENTS. FORWARD-LOOKING STATEMENTS ARE BASED ON NUMEROUS ASSUMPTIONS AND ARE SUBJECT TO ALL OF THE RISKS AND UNCERTAINTIES INHERENT IN RESOURCE EXPLORATION AND DEVELOPMENT. AS A RESULT, ACTUAL RESULTS MAY VARY MATERIALLY FROM THOSE DESCRIBED IN THE FORWARD-LOOKING STATEMENTS.